Every year thousands of high school students in blue jackets come to Lincoln to compete and learn at the annual Nebraska FFA State Convention. For the first time ever, Engler Agribusiness Entrepreneurship Program at the University of Nebraska-Lincoln hosted a pitch competition during state convention, which allowed FFA members to pitch and earn funding for their business ideas. This competition not only provided an opportunity for students to practice their public speaking skills, but also gain confidence in their business ideas.
Engler believes in the power of free enterprise and leveraging the talents of young people. Students are often challenged by program staff and peers to think innovatively to solve common everyday problems and turn solutions into enterprises. While Engler primarily serves undergraduate students, the program has partnered with Nebraska FFA in recent years in several ways, but namely to coordinate and sponsor Launch! which is a year-long experience that guides FFA chapters through the entrepreneurial process to build a school-based enterprise
Fifteen FFA students from across the state competed in the pitch competition as several teachers, parents, and other students sat in the audience. Each participant crafted a three-minute pitch to a panel of judges. These students came from diverse backgrounds and had a wide range of ideas, from growing a pumpkin patch to starting a customized woodworking business.
The competition was coordinated by Victoria Ference, an Engler student who is a sophomore agricultural education major from Ord, Nebraska. Vickie is also the founder of Vickie's ExtraORDinary Pork, a direct-to-consumer business which seeks to build communities by connecting consumers with producers to provide a fresh and local pork product. Vickie's ExtraORDinary Pork generously sponsored the competition awards of $100 to the first-place participant and $50 to the runner-up.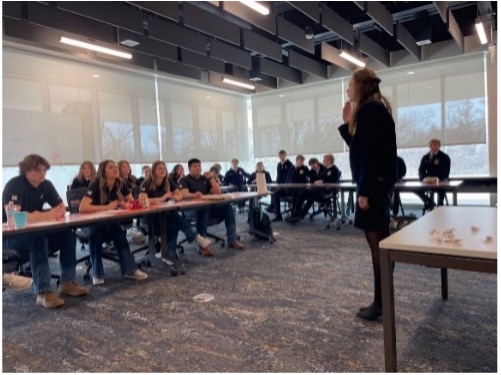 "I wanted this pitch competition to take place so students in high school would know they truly can make their business idea into a career in the future," said Ference., The Engler community provides an atmosphere that inspires innovation, and allowing high school students to be a part of that community only opens more doors for them in the future.  The Engler Entrepreneurship Program aims to embolden students through the courageous pursuits of their purpose. The program at the University of Nebraska-Lincoln was founded by a generous gift given by the Paul and Virginia Engler Foundation, with the intent of encouraging students to find their purpose. This event encourages young entrepreneurs to chase their dreams, and shows us all that it is never to early, or late, to start your journey.
To learn more about the University of Nebraska-Lincoln Engler Entrepreneurship Program visit our website: Home – Engler (englerjourney.com), or follow us on Facebook, Instagram, and YouTube. If you know of a high school or college student that may be interested in the Engler Program, reach out to Engler's Director, Dr. Tom Field (tfield2@unl.edu)