In Spring 2019, the FFA students at York High School recognized a problem and created a solution: many customers at the annual plant sale at the York FFA Greenhouse did not have the time, energy, or physical ability to water their plants. The students decided to take matters into their own hands and start a custom watering business.
They received a grant through the FFA Foundation as part of the Launch! Program to purchase a watering tank to pull behind a vehicle, and they began to spread the word. Each time a customer bought a plant at the greenhouse, he or she received an informational flyer describing the new service.
Social media and word-of-mouth marketing quickly became the most effective way to reach new customers, most of whom were elderly residents, busy business owners, or people seeking a temporary watering service while they were out of town on vacation.
The eight entrepreneurs—a mix of freshmen through seniors—learned about finances, record keeping, customer service, and the need for flexibility. They learned firsthand what it takes to start and run a small business, often in true entrepreneurial fashion: trial and error.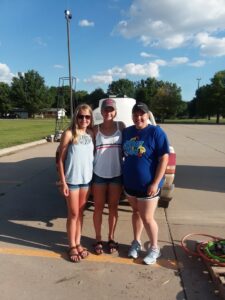 For example, the students had to rethink their original flat-rate pricing when it became clear it was not feasible due to the wide variety of rainfall amounts. During drier weeks, the business was spending too much on water compared to the price charged per customer. The students are now exercising their adaptability by developing a new pricing system based on the number of plants, frequency of watering, and a flat fee to reserve a spot on the schedule.
The Watering Can takes about 20-30 hours per week to serve roughly 20 customers during the watering season. In the off-season, students meet about five hours each week to handle the other aspects of the business. At the beginning of the season, the team recruits new students to join and replace the graduating seniors, thus ensuring the business' continued sustainability.
Overall, FFA advisor Rachelle Staehr was impressed by how hard her students worked, and she encourages other schools to consider adding the program: "I'm really thankful for the Launch! Program – I would not have been able to provide my students with this opportunity for real, hands-on experience without it. I learned a lot about the entrepreneurial mindset and how to teach it to my students, and it takes FFA and other agriculture programs to the next level."
Advisors: Rachelle Staehr and Jason Hirschfeld
York High School