Concrete. It's inexpensive, easily accessible, and for four students from Blue High School, it was the beginning of an entrepreneurial journey.
It all began in Spring 2018 at an FFA training day in Kearney. A few of the students were initially hesitant to spend the majority of their Saturday learning about business and entrepreneurship, but they quickly recognized an opportunity and set about making it a reality.
Four budding entrepreneurs started crafting decorative stone projects, like bird baths, planters, and stepping stones, and selling them to local customers. They named the business "Concrete Unlimited." The school-based enterprise—meaning the business is organized and managed through the school system—involves students with interests from shop class to art and design, combining different talents to create each product.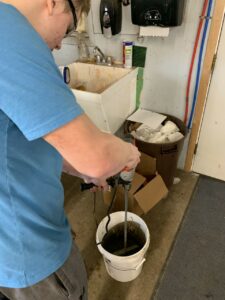 It's been a learning experience in many ways. Like any good business, these lessons often come through trial and error. For example, after making succulent pots for the school greenhouse sale, the entrepreneurs realized an important lesson about practicality: tiny molds are harder to use, can't be sold for as much, and are ultimately less cost-effective than bigger stones.
Similarly, there's no better way to understand how a business model works than to see it in action. Calculating how much money goes into each product may seem abstract until it's time to actually do it.
 For instance, non-personalized products cost about $15-20, and customized pieces sold for $25. Besides the cost of labor, input included gallons of paint, paintbrushes, and molds. The Portland cement itself rang in at $20 per 50-pound bag, but it wasn't available locally. Instead, someone had to drive to the Menards in Hastings and buy it four bags at a time — the team had to factor in paying mileage and spending the time and energy hauling it. It was suddenly clear that just because a product cost a customer $25, the company wasn't necessarily making $25 on it.
The team pitched the business at a conference in June, and the judges loved it: Concrete Unlimited left with a $1,000 award. The money went toward purchasing better equipment, including a new drill and spatula. No more hand mixing!
Learning by doing continued as the team problem solved various hiccups in the production process, researched different materials and molds, and talked to industry professionals. Visiting with people in the professional world—from the Concrete & Builders Union in Omaha to engineers from Olsson Associates in Grand Island—was an unforgettable experience. Industry personnel were excited to work with the students, share their knowledge, and offer guidance.
Besides mixing the batches of concrete, the entrepreneurs learned how to take orders, make flyers, create social media posts, and call customers. Most of these customers came from within the school system, including parents and coaches, or were members of the community.
By the time the original team graduated, they had the process down to a science, serving two or three customers per week during the height of production. "It's been a neat learning experience," said advisor Melissa Bonifas. She estimates Concrete Unlimited created between 30-40 products total. The business is now looking for younger students to get involved and is considering adding more yard art products to diversify its offerings.
Bonifas recommends other schools' Launch! Program businesses create a detailed, shared spreadsheet to track all students' work hours from the start. This way everyone can see what the other team members are doing, eliminating any potential confusion about wages or hours worked. Likewise, she suggests paying students using a percentage of profits system rather than an hourly rate. "Clarifying how much and how often students will get paid simplifies everything right from the start and motivates them to work hard."
Another key recommendation is to partner with the local community early on. Having mentors to bounce ideas off of is an invaluable asset to any business, but scheduling conflicts and lack of time can be obstacles in setting up occasions to work together. Bonifas suggests making these meetings a priority because they are such a wonderful chance for students to learn from real-world mentors.
 "Entrepreneurship is a great opportunity to teach students about good communication and people skills. The students are learning and are so busy — have grace with them, but be willing to push them to learn to work hard and be self-starters. Once you realize what the kids can do and what the community likes, you realize you can do it."
Advisor: Melissa Bonifas
Blue Hill High School